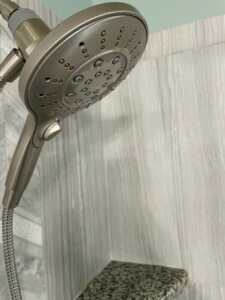 Full Stack Plumbing handles simple and complex shower faucet installation projects for Apex residents and business owners. We install shower faucets and repair drains and make sure they remain leak-free and will serve your family for years to come. Contact our Apex Plumbers for a shower faucet repair or replacement project.
Shower Installation in Apex
A morning shower is a key ingredient in any successful day for family members of all ages. Children need to get off to school feeling clean, and you need to head into work energized by a shower.
There are different opinions on what makes a great shower, and your shower fixtures should be able to provide for many different tastes. Many people prefer super-hot showers with pulsating settings. Some people look for a stream that's more like a gentle rain. We can help people select the best shower fixtures and install the most modern of faucets.
You'll also be able to count on quality work that doesn't include surprise leaks or shower handles that don't turn the water completely off. Our Apex plumbers are experienced in all shower projects and make sure your fixtures are working perfectly before we leave.
Our crew can take care of these and other projects related to shower installation and your bathroom routines:
Shower Head Fixtures – Your old shower may be leaking or getting rusty. It may even be green from mineral buildup. We are ready to suggest a repair or install a brand-new showerhead with all the latest features.
Shower Drain – Your shower isn't going to be relaxing when the water doesn't go anywhere. Our Apex Plumbers are pros at tracking down shower drain clogs and more serious issues.
Hot Tub, Bath Tub, and Jacuzzi Installation – A luxury tub with jets will require the right size pipes and proper installation to deliver the spa experience you're looking for. Make sure your hot tub or bathtub is installed to provide years of enjoyment.
Water heater repair and replacement – When your shower isn't getting enough hot water to meet your family's needs, no one is happy. Our crew is ready to repair your water heater so that those showers are steaming hot again. We are also certified to install new electric, gas, and tankless water heaters to meet your demand for hot water.
The Advantages of Using Full Stack Plumbers for Your Shower Project
You may have a bathroom plumbing emergency intrude on your morning routine. Our crew can respond to a sudden problem in your shower. You could also be tired of shower fixtures that don't meet your family's needs. You might decide that a modern design with improved features would make a big difference in the way you start your day.
We are good listeners. Our expert Apex plumbers want to partner with you on your bathroom project. That can mean replacing a failing fixture or helping you select a faucet with the upgrades you want.
Our staff is a fully licensed and certified Apex plumbing crew. Our plumbers will provide an expert assessment and installation.
Apex Shower Installation Pricing
If you are ready for a new shower upgrade, then our Apex Plumbers are the right people to talk to. But we aren't going to recommend an expensive upgrade or repair unless that's what's needed and that's what you want. If a simple repair is all it will take to get your shower back to normal, then we'll tell you that and make an inexpensive fix. If you have your heart set on a new, modern fixture, we can help you with that vision too.
Full Stack Plumbing keeps our prices as affordable as possible by only doing the work that's needed and never doing replacement or repair work you didn't ask for. We also practice transparent pricing. This means you'll know what you're paying for and what services you'll get for your money.
Contact a Skilled Apex Shower Plumber Today
A leaking shower or a low-power shower fixture can ruin your day. You shouldn't have to leave your shower unsatisfied with your level of cleanliness and relaxation each morning. The experts at Full Stack Plumbing come to the rescue and make sure you have a shower that meets the needs of the entire family.
Our team of licensed, trained, and fully insured plumbers is ready to help you with any shower project.  Contact us for all of your plumbing needs at your Apex home or business.