Full Stack Plumbing comes to the aid of Apex residents and business owners to repair toilets that are leaking, clogged up, or aren't working as they should. We can also help with bathroom renovations that include the installation of a new, modern toilet. Contact our Apex Plumbers for a toilet repair or replacement project.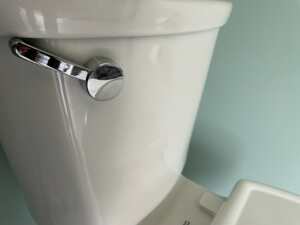 Call Full Stack Plumbing in Apex for Any Toilet Project
The team of experts at Full Stack Plumbing stands ready to act when your toilet stops working. We can help you select a new toilet that fits your space, your needs, and your budget. We want to listen to your concerns and partner with you on a bathroom upgrade.
Our fully licensed and certified Apex plumbing crew will take care of a leaky toilet or a constantly running toilet in no time. We also make sure the problem doesn't return. Contact us today to set up an appointment anywhere in Apex and across Wake County. We are here to answer all of your questions about toilet fixes and replacement!
Toilet Repair in Apex
Our professional staff is ready to take care of any frustrating problem you have with your toilet. You may have a backed-up toilet. The problem could be with your toilet, or you may have an issue with your main line that runs to the sewer or septic tank outside your home. We can handle any problem, big or small.
We want to assure you that we don't recommend renovations or an expensive new toilet when a simple repair or gasket replacement will fix your problem. We look for the most inexpensive fixes first, unless a new toilet is what you want.
Our plumbers can fix these issues and others.
Fixing a toilet handle that isn't working
Replacing parts in the toilet tank
Fixing a constantly running toilet
Fixing sewer drain clogs and leaking sewer lines
Replacing leaking water line connections
Checking and replacing gaskets and seals
Our Apex plumbers fix all toilet issues and make sure water lines and drains are water-tight before we leave.
Toilet Replacement in Apex
If you allow Apex's Full Stack Plumbing to handle your new toilet project, our professionals take care of the important details. We detach water lines and drain attachments safely and with as little mess as possible.
The job isn't done until your new toilet is running as it should, without leaks. Your bathroom should look the way you intended it too once we are finished.
We can help you install low-flow toilets and bidets if they are in your designs for your bathroom makeover. We can make sure new dual flush features are working the way they should. We can also install new fixtures in businesses to make sure public and private toilets are able to do their jobs.
Full Stack Pricing and Reliability
Full Stack Plumbing works hard to keep our prices affordable for everyone. We also practice transparent pricing. This means you'll know what you're paying for and the value you'll get for your money.
We back up each and every repair or replacement job we do. If you aren't happy with how a project turns out, we are ready to roll up our sleeves and work until you are satisfied with the service you receive.
Contact a Skilled Apex Toilet Replacement Plumber
A backed-up toilet or a leaking seal can ruin your day. You shouldn't have to "jiggle the handle" every time you leave your bathroom. The experts at Full Stack Plumbing come to the rescue and make sure you have a toilet that works again. We are also experienced at installing any kind of new toilet you may prefer in your home. Just let us know which model meets your needs.
Our team of licensed, trained, and fully insured plumbers is ready to fix your toilet problem and get your family life back to normal as soon as possible.  Contact us for all of your plumbing needs at your Apex home or business.