Families in Apex probably need a few things to get the day started right. They may need breakfast and some coffee. They may need an update on the morning news. And many folks will want a nice, hot shower.
When a water heater breaks, people jumping in the shower may be the first to notice. Cold water will wake you up, for sure, but it will also put you in a bad mood for the rest of the day. There's no need to put up with this frustrating problem for long. Contact Full Stack Plumbing's Apex Plumbers to investigate the problem and find the quickest fix. Don't let your family live without hot water for any longer than they have to.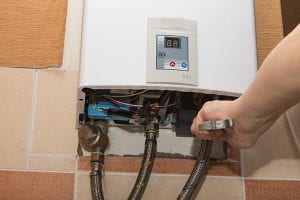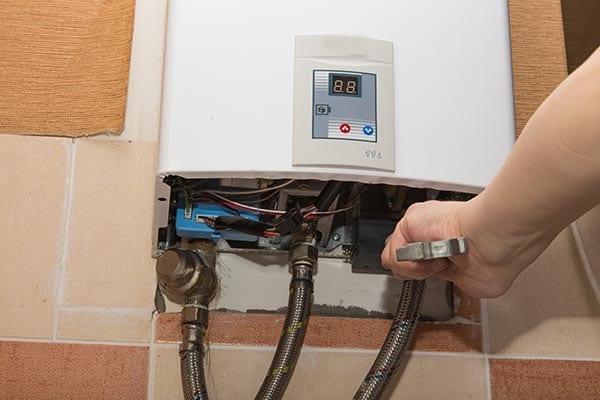 The Advantages of Full Stack Plumber's Water Heater Specialists
Our Apex plumbing professionals will track down a leak or a part failure and get hot water flowing in your home as quickly as possible. They will look for the simplest and least expensive fix first. We won't try to sell you an expensive, new water heater when a simple part or water line fix is all that's needed.
We provide fast and reliable water heater repairs and installations that you can count on for years to come.
Our staff is fully licensed, certified, and insured. Full Stack Plumbing also offers affordable prices. We practice transparent pricing. This means you'll know what you're paying for and what services you'll get for your money.
Trusting Full Stack Plumbing with Your Water Heater Needs
A water heater issue can shut down your dishwasher, reduce the effectiveness of your washer in the laundry room, and make showers and baths miserable.
The Apex plumbers at Full Stack Plumbing will trace the source of your water heater problem and talk over your options with you.
We are experienced at fixing and providing routine maintenance to all types of water heaters. These are just a few of the problems we can fix:
Electric Water Heater Repairs – A traditional storage tank has a lot of parts that can go bad. A busted thermostat can keep a unit from heating any water.  Heating elements do the actual heating of the water, and one or both elements may have stopped warming up.  When hot water runs out faster and faster each day, it can mean your water heater needs a routine flush to clear out sediment in the tank.
Gas Water Heater Issues – Gas water heaters have many parts to safely control the flow of gas and make sure the gas is ignited at the proper time. A new thermocouple sensor or a gas regulator valve may go bad. Replacing them could fix your hot water issue.
Leaks – The seals on the lines going into and running out of your water heater could start to fail. We can fix those joints and replace the water lines. A leak in your tank may be a bigger issue. This usually means the tank is too worn out and old to hold water. You will probably have to look for a new water heater. We can help you select a new unit that meets the hot water needs of your household. We also make sure your new water heater will fit in your old space. Full Stack employs expert Apex water heater installation plumbers if you should need them.
Apex Tankless Water Heater Repairs
Tankless water heaters generally provide unlimited hot water for decades, but they require some routine maintenance to work properly. They may also hit a snag that can affect your hot water output. Our Apex tankless water heater plumbers are ready to open up your unit and find the problem.
Our plumbers will check your wiring to make sure your tankless water heater is getting the electricity and water it needs to function at peak efficiency. Tankless water heaters also develop mineral build-up and need to be flushed at least once a year. We can handle this routine maintenance before a build-up affects your hot water supply.
At Full Stack Plumbing, we can install and care for any tankless water heater in your home, including Rinnai tankless water heaters.
Call Full Stack Plumbing for Apex Water Heater Repair
Whether you are experiencing the slow loss of hot water or your water heater has quit working completely, the experts at Full Stack Plumbing are your source for hot water heater repair.
Our team of licensed plumbers repairs electric, gas, or tankless water heaters. Full Stack Plumbing is also your source for Apex water heater maintenance as well as other plumbing installation and plumbing repair services. Don't suffer through any more cold showers! Contact us today and tell us about your water heater issue.