Water Heater Installation Carrboro NC
Have you just experienced the mess and inconvenience of a water heater that's burst? Maybe your hot showers aren't so hot anymore. You may also be looking to reduce energy expenses by installing a more efficient model or even a tankless water heater.
Full Stack Plumbing is the name to trust for water heater installation and repair in Carrboro. Our team of trained and licensed plumbers can provide hot water heater installation for any type of water heater.
Whether you need a quick fix or are interested in a new gas water heater, electric water heater, or tankless water heater, Full Stack Plumbing has the brands and services you can rely on. We are ready to respond if you have a water heater emergency. Contact Full Stack Plumbing now for a free consultation on your hot water heater repairs and installation.
The Advantages of Using Full Stack Plumbing's Professional Crew
Our expert Carrboro plumbers want to hear about your concerns and needs so we can help you select the best option for restoring the flow of hot water to your showers and kitchen.
We examine your water heater to see if a simple repair or part replacement can fix the issues. If a new water heater is needed, we help you select the best model for your home. We really listen and assist you with making a purchase that isn't more than you need or less than you require to keep your sinks, washers, and bathrooms supplied with hot water.
We'll come to your home for a free consultation to examine your hookups and setup and then go over your options.
Our staff is a fully licensed and certified Carrboro plumbing crew. Our professionals know the Orange County area well. Our plumbers will provide an expert assessment and install. And they know that no job is finished until the cleanup is complete.
Full Stack Plumbing offers affordable prices. We also practice transparent pricing. This means you'll know what you're paying for and what services you'll get for your money.
Electric Water Heater Installation in Carrboro NC
Your family may not notice the convenience that water heaters provide until the hot water runs out one day. An older water heater might provide less and less hot water as it gets older. Storage tank electric water heaters can last ten years or more depending on how much use they get.
At some point, they will need to be replaced. A new electric model could be the right choice for your household.
Electric water heaters are safe and easy to maintain and operate. Electric water heaters may be the cost-effective choice depending on gas prices in your area.
We can examine your current water heater to see if a simple repair is all that's needed. If a water storage tank is leaking, it's probably time for a new model. We'll also go over your options with you and make sure you have enough hot water available to keep every member of the family happy.
If you are interested in an electric water heater installation and you live in Carrboro or anywhere in Orange County, contact the experts at Full Stack Plumbing. Our team will provide a free consultation and go over the benefits of using an electric water heater in your home.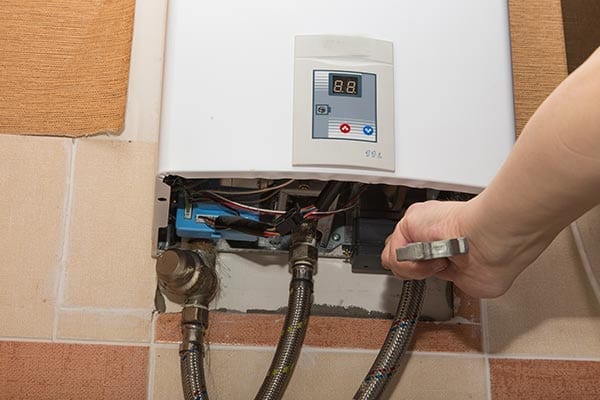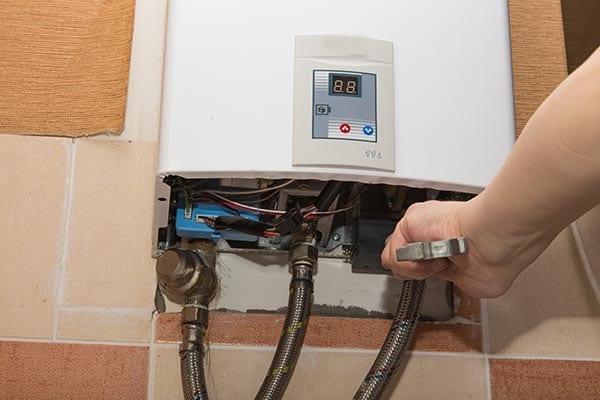 Gas Water Heater Installation in Carrboro NC
Gas water heater installation may be the energy and cost-saving choice for your home. What's more, most gas models heat your water more quickly than electric water heaters. If you are thinking about gas water heater installation in Carrboro NC, contact the pros at Full Stack Plumbing.
We provide a free consultation for the services. We'll suggest any cost-saving repairs or part replacements if that's all that necessary to fix your gas water heater issue.
If a water heater replacement is what's needed, our expert plumbers make sure your gas lines and hookups are ready to supply a new gas water heater. Full Stack Plumbing will help you decide the best water heater type for your home and provide an accurate quote for an Orange County gas water heater installation.
On Demand Tankless Water Heater Installation in Carrboro NC
Tankless water heaters provide hot water on demand and are much more efficient than gas and electric water heaters. It's a limitless flow of hot water, for every shower you take. You may already have a tankless water heater that needs an adjustment or a flush or descaling. We can help you keep your tankless water running at full efficiency.
We also help you look for the right tankless water heater if you need a new model. Figuring out where the unit should go will be an important decision. Tankless water heaters are much smaller than traditional models and can go many places a storage-tank water heater can't. Our plumbing professionals also make sure you have the right water and electrical lines to handle your tankless water heater's needs.
Full Stack Plumbing in Carrboro provides a free consultation to anyone thinking about installing a tankless water heater, including Rinnai tankless water heaters.
Get A Free Consultation for Water Heater Installation & Water Heater Replacement in Carrboro NC
Whether you are building a new home, looking to upgrade your water heater, or have experienced a water heater burst, the experts at Full Stack Plumbing are your source for hot water heater installation and repair.
Our team of licensed, trained, and fully insured plumbers install electric, gas, or tankless water heaters. Full Stack Plumbing is also your source for water heater maintenance and water heater repair services, as well as other plumbing installation and plumbing repair services. Don't suffer through any more cold showers! Contact us today for a free consultation.
Schedule Water Heater Installation in Carrboro