Apex's Full Stack Plumbing is your first call when your shower, bathtub, toilet, or sink isn't working quite right. Our certified Apex plumbers can make the right repair to get your bathroom fixtures up and running again. We are also ready to help you with a new vision for your bathroom with the installation of new sinks and bathtubs.
Contact Apex's Full Stack Plumbing to get your bathroom operating normally again or when you need to upgrade your fixtures.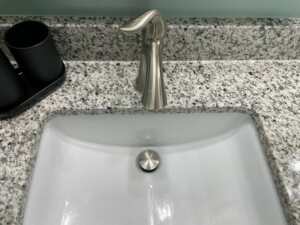 Bathroom Repairs and Upgrades in your Apex Home
Apex families have a lot of places to be every morning, but the first stop is usually the bathroom. That morning routine is the way we prepare for our days, but a leaky faucet or a clogged drain can really slow us down.
You could be tired of the way your aging bathroom looks or the lack of features in your shower or sink. It might be time for some brand-new fixtures that provide the new options you've been missing.
Our Apex Bathroom Plumbers are good listeners, and we want to partner with you on your next bathroom repair project or upgrade. We are happy to take on these projects and more:
Bathtub faucets – You may need a new faucet on your leaking tub. You could also opt for a new luxury tub with water jets and we are ready to get those hooked up and ready for your next spa day.
Bathroom sink faucets – A dripping sink can bring you down and raise your water bill. We can repair your old sink or install a new, modern sink. If you'd like a fancier bathroom, don't hesitate to call us.
Shower fixtures – Our expert crew can install a new shower head with the power and settings you want. If all you need is a new gasket or a leak sealed up, our Apex plumbers can handle that too.
Toilet installation and repair – A toilet that won't stop running can drive you crazy. We can provide a quick and inexpensive fix. You may want to get rid of an old toilet and install a fancy new model with the comfort features you deserve. Full Stack Plumbing is ready to help.
Drain repair – Water that's slow in draining can be worse than a leak. We can find a clog and eliminate it or replace a drain. Our plumbers unclog hair-filled pipes in sinks, showers, and tubs. We unclog sewer lines to make sure toilets are flushing as they should.
Water Heater repair or replacement – A bathroom without hot water can make for a discouraging start to your day. We can repair a faulty part on a gas or electric water heater, or a tankless water heater. We also install new water heaters if you are ready for an upgrade.
The Advantages of Using Full Stack Plumbing of Apex
Our expert Apex plumbers want to hear about your vision for your bathroom needs. We never suggest pricey upgrades when a simple, inexpensive fix will do. We are also fully qualified to install brand-new fixtures to improve the form and function of your bathroom.
Our staff is a fully licensed and certified Apex plumbing crew. Our professionals know the area well. Our plumbers will provide an expert assessment and installation for your family.
Full Stack Plumbing offers affordable prices. We also practice transparent pricing. This means you'll know what you're paying for and what services you'll get for your money.
Contact an Apex Plumber for Your Bathroom Installation Needs
The experts at Full Stack Plumbing are only a phone call away when a bathroom plumbing emergency strikes. We are also happy to install any fixture you have in mind for your bathtub, shower, or bathroom sink.
Our team of licensed and fully insured plumbers is ready to improve the functionality and look of your bathroom.  Contact us for all of your plumbing needs at your Apex home or business.