HALO 5 WATER FILTRATION SYSTEM INSTALLATION IN CHAPEL HILL, DURHAM, PITTSBORO & BEYOND
At Full Stack Plumbing we've chosen to partner with Halo Water Systems to make sure our customers have high quality water and healthier plumbing in their homes. Halo 5 water filter is a whole home water filtration & conditioning system that eliminates chlorine, fuels, heavy metals, pesticides, and other contaminants; giving you better tastings, healthier water that will keep your plumbing in better condition throughout the year. If you want to learn more about the Halo 5 Water Filtration System, give us a call or contact us online.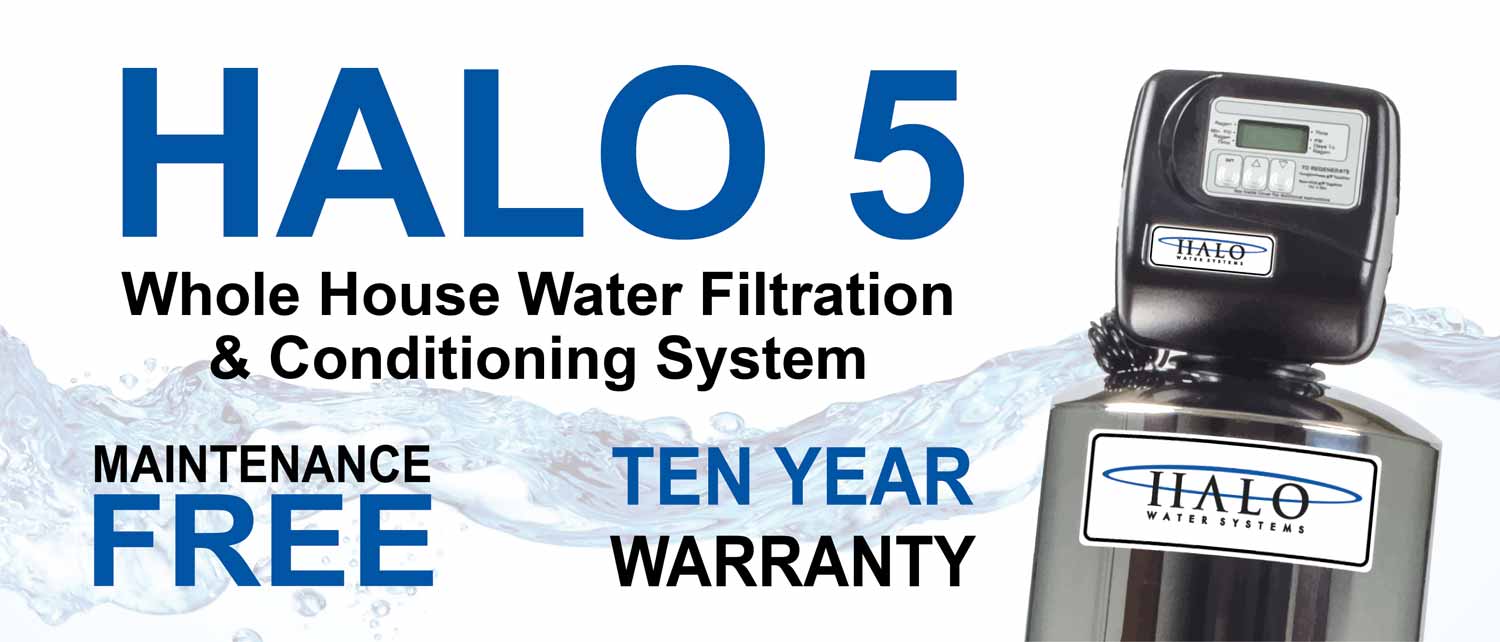 What Is The Halo 5 Water Filtration System?
When you turn your water on, the expectation is that it will be free from pollutants and contaminants, however, that isn't always the case. The Halo 5 Water Filtration System filters & conditions your water in 5 stages:
Stage 1: Granular Activated Carbon (GAC)
Premium grade acid-washed GAC for the general removal of chlorine, chloramines, gases, dyes, fuels, heavy metals, man-made pollutants, disinfectants, pesticides, TTHM, sodium hypochlorite, undesirable odors, undesirable taste and volatile organic contaminants.
Stage 2: High Activity Carbon (HAC)
HAC is an outstanding material for successfully reducing free chlorine from water supplies. The end product is clean, fresh water with no objectionable taste or odor characteristics. Additionally, HAC can be used for filtering waters having a wide range of pH levels and will impart a high "polish" to the filtered water.
Stage 3: Filter-AG Plus®
Filter-Ag Plus® is an all-natural, environmentally safe media with a large surface area and microporous structure. It is a highly efficient filter media for the reduction of suspended matter down to the 5 micron or less range and is thus, extremely effective at removing water turbidity.
Stage 4: High Density Garnet Filter Media
Garnet is a high hardness, high density granular filtration media that can effectively filter down to the 10-20 micron range. It also provides an excellent support bed for the other filtration media.
Stage 5. Halo ION Inline Water Conditioner
Our proprietary HALO ION 2.0 In-line Water Conditioner uses multi-reversing polarity permanent magnetic fields to alter the molecular structure of positively and negatively charged ions of dissolved calcium and magnesium. This causes the hard water minerals that would normally cause limescale to stay suspended in the water instead of attacking pipes and appliances. The conditioned water also helps prevent corrosion due to scale and will dissolve existing scale over time.
Benefits Of The Halo 5 Water Filter in Chapel Hill, Durham & The Triangle
The Halo 5 will make your water look and taste better and doesn't require any maintenance, but it does a lot more than that. Chlorine is commonly found in tap water and can cause health issues, Halo 5 reduces chlorine and help filter out other nasty contaminants that may be found in your home's drinking water. If you are someone who already uses a filtration system on your faucet, or buys bottled water, the Halo 5 can save you a lot of money in the long run. From our perspective, here at Full Stack Plumbing, we love the Halo 5 filtration system because it can help get rid of scale & corrosion in your pipes. The Halo 5 dissolves & prevents scale, as well as corrosion in your pipes, which, over the course of time, can lead to costly repairs to your plumbing. We don't partner with just anyone, we make sure that the companies we choose to partner with benefit our customers in some way. If you would like to learn more about getting the Halo 5 Water Filtration System installed in Chapel Hill, Durham, Pittsboro or anywhere in the Triangle, contact Full Stack Plumbing at 984-234-9218 and schedule a free consultation today.

Let Us Install Your Halo 5 Water Filtration System In Durham, Chapel Hill & Beyond
Do you buy a lot of bottled water or use a water filter system on your tap? Usually we find people do this because they are concerned about contaminants in their water or they simply like the taste of fresher, cleaner water. The Halo 5 Water Filtration System can save you money in the long run, reduce the amount of chlorine & other contaminants in your water, and help you keep your plumbing & pipes in better condition. Full Stack Plumbing knows that the Halo 5 offers a lot of benefits to our customers here in Chapel Hill, which is why we would be happy to talk to you about the benefits of getting it installed, just give us a call at 984-234-9218 or  contact us online and set up a free consultation today.
Full Stack Plumbing provides Halo 5 water filter installation in Raleigh, Durham, Chapel Hill, Cary, Pittsboro, Morrisville, Hillsborough, Roxboro, Mebane, Louisburg, Oxford, and the surrounding cities and towns. We also provide a number of other plumbing installation services for tankless water heaters,  faucet & sinks, showers & baths, toilets, and other large appliances. We are available for plumbing repair services like sewage backup repair, clogged drain repair, broken pipe repair, faucet & sink repair, water leak detection & repair, and many others.
Schedule Plumbing Service