Sink Repair,
Faucet Repair in Raleigh, Durham, Pittsboro, Chapel Hill & Beyond
Because your faucets and sinks see so much use, they are subject to higher than average wear and tear which can lead to leaks, clogs, backups, and breaks. When your faucet breaks or your sink backs up, it can be a mild inconvenience at best. If not taken care of in a timely fashion a small leak, clog, or break can become more severe.  A severe break in your sink or faucet can lead to major inconveniences or even damage to your home or business. That's why if you have a broken sink or a broken faucet, you should contact Full Stack Plumbing immediately. We provide sink repair & faucet repair in Raleigh, Chapel Hill, Durham, Pittsboro, and the surrounding area. You can schedule a time that is more convenient for you to have us come out and provide the needed plumbing repairs. 
Sink Repair, Faucet Repair in Raleigh, Durham, Cary, Chapel Hill & The Triangle
A broken faucet or sink may seem like an easy problem to fix, but do it yourself solution may actually wind up making the problem worse. There are a number of problems that can occur that cause your faucet or sink to malfunction. While a simple clog may be easy to fix with elbow grease or the right store-bought products, a more complex clog or leak requires the help of a professional plumber in Chapel Hill. Full Stack Plumbing has the licensed and certified plumbing staff you can trust to provide scheduled sinks and faucet repair in Raleigh, Durham & The Triangle. We can handle any plumbing issue you may be having from a small leak or clog, to a sewer backup or major leak that is causing damage to your property. Call us today and schedule plumbing service in Durham today.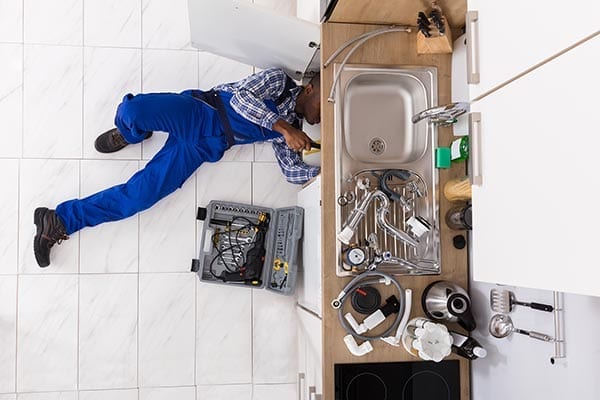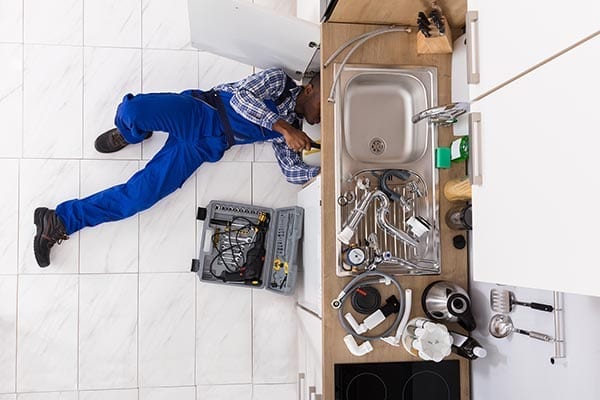 Common Issues Requiring Sink, Faucet Repair In Raleigh, Pittsboro, Chapel Hill & Beyond
There are a number of issues that can necessitate a plumber to come on site to fix your faucet or sink, below are just a few:
Leaky Faucets & Dripping Faucets – These are one of the most common issues that you can face with your faucets. Usually found in kitchens and bathrooms, a leaky or dripping faucet can develop into a bigger leak and higher water bills.
Clogged Garbage Disposals – A clog in your garbage disposal can be caused by a variety of different reasons. Hair, grease, food, rust or other dirt can stop your garbage disposal from working and can back up your sink. When your garbage disposal backs up, you shouldn't use your kitchen sink until you can fix the problem.
Clogged Sink Drains – Similar to a clogged garbage disposal, a sink drain can clog when grease, hair, foot, and other dirt particles start to accumulate. The problem with clogged drains is that the clog often happens in the pipes. Store bought chemicals may clear the clog briefly, but can damage your drain and not solve the issue in the long term. If you have a clogged sink drain that doesn't go away, you should contact a plumber to get rid of the issue once and for all.
Foul Odors – Sometimes as food and dirt particles get suck in your plumbing it can be an indication of a backup. If the odor is particularly foul, it can even mean that your septic system or sewage system is beginning to back up. If you have a persistent foul smell coming from your sink or drain, we can inspect and find out what the issue is, and then fix it for you.
Low Water Pressure From Your Faucets – Sometimes low water pressure to your faucets is just because of how your plumbing was installed initially, but if you have a faucet that used to have higher pressure and it has since become weak, it can be an indication of a more serious problem, like a water leak. Full Stack Plumbing can check out the problem and make sure that your water pressure gets back to normal as quickly as possible.
Contact Us For Sink & Faucet Repair in Raleigh, Chapel Hill, Durham & The Surrounding Areas.
If your sink or faucet has stopped working properly, Full Stack Plumbing is on call for scheduled sink repair and faucet repair in Raleigh, Durham, Chapel Hill & the rest of the Triangle area of NC. We want to make sure that your broken sink, faucet, or garbage disposal is fixed as quickly as possible so you can get back to using your plumbing as intended. We also provide a number of other plumbing repairs in Durham & the Triangle to residential and commercial customers. We can help you with broken & frozen pipe repair, drain cleaning and clog repair, water leak repair & detection, water heater repair, sewage backup repair, and more.
Aside from plumbing repairs, we are also licensed and certified to provide plumbing installation services. We can work with you to provide water heater installation, shower and bath installation,  sink installation, toilet installation, and other large in-home appliance installation in Chapel Hill, Durham & the surrounding areas. We offer these services throughout our entire service area, which includes: Morrisville, Chapel Hill, Pittsboro, Roxboro, Carrboro, Hillsborough, Raleigh, Durham, Cary, Apex, Holly Springs & the entire Triangle area of North Carolina.
We can be reached for all of your sink repairs and faucet repair needs by calling 984-234-9218 or by scheduling service online. We always provide transparent affordable pricing and a free consultation. So contact Full Stack Plumbing today!
Schedule Plumbing Service