Apex's Full Stack Plumbing is ready to rescue local homeowners who suddenly discover they have a broken pipe emergency. Families may see a slow drip in a pipe or a gushing flood coming from a wall.
We want to be your first call when a pipe bursts in your home. Contact Apex's Full Stack Plumbing so we can track down your leak or broken pipe and restore your kitchen, bathroom, or ceiling back to normal.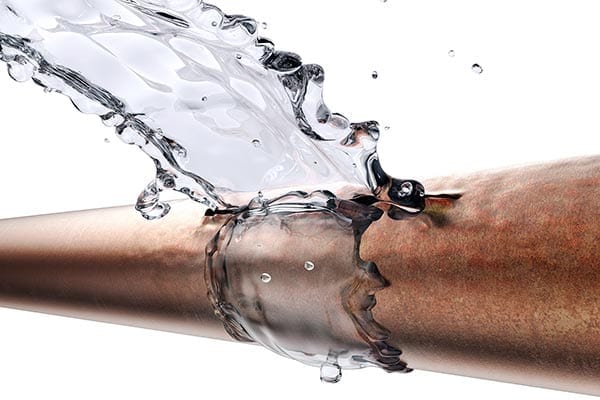 What To Do If You Find a Broken Pipe
After seeing water coming from a pipe, or through a wall or ceiling in your home, you'll need to take precautionary measures. A pipe spewing water can damage cabinets, sheetrock, and the lumber that forms the framework of your house.
You could deal with flooding in your home. Water can sit in places you don't need it to and can lead to mold growth and rot. This problem can quickly become a health hazard to your family.
If you discover a burst pipe, it's important to shut off the water to your home immediately. This can stop the damage and allow your floors and ceilings to dry out. You may need to turn on your heat or air conditioning to help with the drying process. Utilizing fans in wet areas will help.
Once you've spotted the problem, call an experienced Apex broken pipe plumber as soon as possible.
Broken Pipe Hazards in Apex
Burst pipes can happen in old and new homes. Unfortunately, they often occur in places you can't see, like in a wall or across a ceiling or floor. You could also notice a broken pipe in your yard after a puddle forms. You may not know you have a problem until moisture starts seeping through or you notice a dank smell coming from a cabinet.
Our skilled Full Stack Plumbing team has dealt with many different types of burst pipe emergencies. We specialize in finding the easiest solution for a pipe issue. We don't suggest expensive fixes that you really don't need.
Several things can lead to a leaky or burst pipe or drain:
Normal aging on a pipe or on the seal between two pipes.
An unrepaired clog or buildup that erodes the pipe.
Chemicals flushed down the pipe that weaken them.
Freezing weather.
A physical blow to the pipe while someone is trying to fix or install a sink, drain, or toilet.
Too much water pressure can lead to pipe damage.
Expert Apex Plumbers at Full Stack Plumbing
Our skilled plumbers serve homeowners and business owners across Wake County. We know the Apex area well. Call us when you need an emergency rescue from the frustration of a leaking pipe or a gushing line.
Our staff is fully licensed and certified. We quickly identify the problem and then review the necessary repairs with you. Full Stack Plumbing offers affordable prices. We also practice transparent pricing. This means you'll know what you're paying for and the value you'll get for your money.
Call Full Stack Plumbing in Apex for Any Broken Pipe Emergency
Reach out to our Apex plumbing crew at the first sign of a pipe problem to get it repaired the right way as fast as possible. We also inspect other pipes to make sure you don't have this issue again.  Contact us today to set up an appointment anywhere in Apex. We are happy to come to your home and go over your best options. We are here to answer all of your questions!