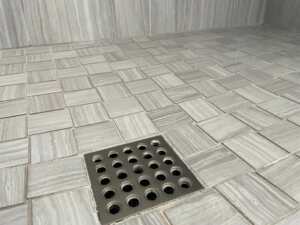 Many Apex families function as well-oiled machines when they prepare for the day. Everybody knows their routines and responsibilities. But when a shower doesn't drain properly or a sink or toilet backs up, mornings can be a frustrating experience for every family member.
Our Apex plumbers specialize in seeking out clogs, no matter how far down a pipe they are. We also fix drains that leak or don't remove wastewater quickly as they should. Contact Apex's Full Stack Plumbing with your plumbing emergency and get your family back to their morning and evening routines as soon as possible.
Apex Clogged Drain Problems
A backed-up toilet or a clogged sink can seem like an easy do-it-yourself fix. But you might find that a clog is further down the line than you thought and out of reach. You could also get instant results, only to have the problem return in a week or two.
Our Apex Plumbers can track down your clogged drain issue no matter where the problem is. We are ready to bust through that clog and remove it completely so you don't have to worry over it again in a month or less.
We look for the simplest solutions first so you aren't spending money you don't need to spend. We can also install a new drain if that's going to serve you and your family better in the long run.
These are just a few of the problems we'll be checking for:
Hair clogs
Food particle clogs
Sewer line clogs
Tree roots in sewer lines
A broken pipe
A leaking or broken drain
The Apex plumbing experts at Full Stack Plumbing will be checking for Kitchen and bathroom drain and sewer line issues and for issues anywhere else inside and outside the home. We can take pipes apart to clear a drain and put them back in place without leaks. We can also send long drain-cleaning "snakes" to reach clogs that may be farther than you can reach.
Skilled Apex Plumbers at Full Stack Plumbing
Our expert plumbers know the Apex area well and are ready to provide for all of your plumbing needs in your neighborhood. We also handle business drain and clog issues at your office or job site. Call us when you need an emergency rescue from the frustrating and unsanitary mess of a drain issue.
Our staff is fully licensed and certified. We quickly identify the problem and then review the necessary repairs and our recommendations with you. We want to partner with you on the plumbing projects affecting you and your family.
Full Stack Plumbing offers affordable prices. We also practice transparent pricing. This means you'll know what you're paying for and the value you'll get for your money.
Call Full Stack Plumbing in Apex for Clogged Drain
The team of experts at Full Stack Plumbing stands ready to act when the drains in your house stop working. A clogged or slow drain can make chores, taking a shower, or brushing your teeth frustrating and messy tasks.
Our fully licensed and certified Apex plumbing crew will figure out where your clog is and eradicate it. We also make sure the problem doesn't keep happening. Contact us today to set up an appointment anywhere in Apex and across Wake County. We are happy to come to your home and go over your best options. We are here to answer all of your questions!