Full Stack Plumbing offers quality work to Apex residents and business owners when plumbing emergencies arise. We also handle smaller projects such as leaky faucet repair and the installation of new kitchen faucets. Contact our Apex Plumbers for a kitchen repair or replacement project.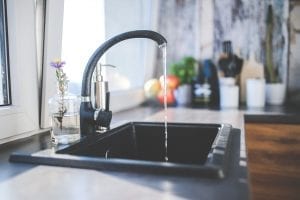 Skilled Apex Kitchen Faucet Plumbers at Full Stack Plumbing
Our expert plumbers know the Apex area well and are ready to provide for all of your plumbing needs in your home. Call us when you need an emergency rescue from the frustration and hazards of a leaky kitchen faucet or a water leak in the lines that connect to the faucet.
Our staff is fully licensed and certified. We quickly identify the problem and then go over the repairs that are necessary with you. We also want to partner with you on the plumbing projects that you have in mind, including the addition of a new kitchen faucet.
Full Stack Plumbing offers affordable prices. We also practice transparent pricing. This means you'll know what you're paying for and the value you'll get for your money.
Kitchen Faucet Repairs in Apex
A constantly running kitchen faucet can make family mealtime and clean-up that much more work. A leaking connection at the base of a faucet or underneath a sink can do real damage to cabinets and flooring.
You should contact a skilled Apex plumber as soon as you experience these issues, or any other issue with your faucet.
We can handle these and other kitchen sink issues:
Faucet handles that don't turn off the water
Leaks anywhere on the faucet
Replacement of seals and gaskets
Replacement of water lines going into the faucet
Leaks in sink drains
Clogged sink drains
Leaks in drain pipes
Kitchen Faucet Installation in Apex
Our skilled Apex plumbers are also ready to partner with you to improve the function and look of your kitchen sink. We can help you pick out a faucet that is compatible with your sink space and will meet all of your family's needs. We are ready to help you install the modern faucet you have in mind.
Here are just a few of the products we install and the services we provide:
Turning off the water supply to avoid a mess during installation
Unhooking water lines from the old faucet
Installation of faucets of all different metal finishes
Installation of touchless and motion sensor faucets
Installation of any style of faucet including pull-down sprayers options
Reattachment of water lines with no leaks
Cleanup
The job isn't done until the customer has viewed the new faucet and is satisfied with the work provided. Full Stack Plumbing listens to our customers and makes sure kitchen projects end up looking and functioning like they expected.
Full Stack Pricing and Reliability
Full Stack Plumbing works hard to keep our prices affordable for everyone. We also practice transparent pricing. This means you'll know what you're paying for and the value you'll get for your money.
We back up each and every repair or replacement job we do. If you aren't happy with how a project turns out, we are ready to roll up our sleeves and work until you are satisfied with the service you receive.
Contact a Skilled Apex Kitchen Faucet Installation Plumber
A dripping sink or a loose faucet handle can make mealtime and dishwashing chores a drag. Don't put up with a faucet that no longer does the job for you. The experts at Full Stack Plumbing come to the rescue with quick repairs to make sure you can depend on your kitchen faucet again. We are also experienced in installing new and stylish kitchen faucets. Just let us know which model meets your needs.
Our team of licensed, trained, and fully insured plumbers is ready to fix your kitchen problems and get your family life back to normal as soon as possible.  Contact us for all of your plumbing needs at your Apex home or business.