Full Stack Plumbing's Apex Plumbers provide water heater repairs and installation for local homeowners and businesses. Our expert plumbers install traditional electric and gas storage tank water heaters. We also specialize in the installation of modern and efficient tankless water heaters.
Contact Apex's Full Stack Plumbing to get help in choosing a new water heater that's the right fit for your home and your family.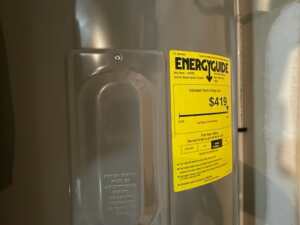 Electric and Gas Water Heater Installation
Full Stack Plumbing knows that a lack of hot water can be a massive inconvenience to your family. We respond as soon as possible when you've had your hot water run cold or when it simply stops flowing at all.
We'll first make sure your problem can't be repaired by a simple part replacement. We won't suggest an expensive purchase when an inexpensive repair is all that's needed. If you are ready for a new model and some new features, Full Stack Plumbing stands ready to help you make the best choice.
You'll need a water heater that will seamlessly install into your current water heater location. You'll also want a unit that can handle the demand your family has for hot water.
Apex Electric Water Heater Installation
Electric storage-tank water heaters can suddenly quit, but they can also slowly go bad. Over months they may produce less and less hot water. They may pump out hot water that no longer reaches the temperatures you've set it to.
These traditional water heaters may last you a decade if you're lucky, but then it may be time to upgrade to better reliability and function. Our professional plumbers make sure your water hookups and electrical lines are in good shape to properly supply your new model.
Space is one concern we'll help you with. As water heaters have gotten more efficient with additional insulation, some of them have also gotten bigger. A replacement that holds the same amount of water as your old unit may actually be larger in size and you could have problems getting it into the space your last tank sat in. We won't let you choose an electric water heater that doesn't work for your home.
Apex Gas Water Heater Installation
A gas water heater uses gas burners to heat up water quickly and efficiently. When family members take showers, the hot water used will be replaced that much faster.
If this is your choice for a new water heater, our Apex plumbing professionals will check to make sure you have the proper gas lines running into your house.
We are good listeners and Full Stack Plumbing wants to partner with you on your water heater installation project. We can talk over the options for your new gas water heater at your home or business and make sure the results match your expectations.
Apex Tankless Water Heater Installation
Some families will be looking for a major upgrade when it's time to get a new water heater. Many Apex families are enjoying the modern convenience of limitless hot water provided by a tankless water heater.
Apex Tankless Water Heater Installation is one of our specialties. Tankless water heaters have a higher initial cost, but they are far more energy efficient. You'll see the savings on your power bill each month. The best part of all is that tankless water heaters give you hot water on demand. As much as you need for however long you are washing clothes or taking baths. It doesn't run out.
Our trained experts at Full Stack Plumbing can install any brand of tankless water heater in your Apex home, including Rinnai tankless water heaters. Our main goal is to find a tankless water heater solution that works best for you and your family. Contact Full Stack Plumbing to get your tankless water heater questions answered.
Skilled Apex Water Heater Installation from the Staff at Full Stack Plumbing
Our expert plumbers know the Apex area well and are ready to provide for all of your water heater repair and installation needs.
Our staff is fully licensed and certified. We are also good listeners. We want to partner with you to determine the best solution to your hot water needs.
Full Stack Plumbing offers affordable prices. We also practice transparent pricing. This means you'll know what you're paying for and what services you'll get for your money.
Contact an Apex Water Heater Installation Specialist
The experts at Apex Full Stack Plumbing should be your first choice for water heater installation and repair.
Our team of expert plumbers has many years of experience installing electric, gas, and tankless water heaters. Full Stack Plumbing is also your source for water heater maintenance and water heater repair services, as well as other plumbing installation and plumbing repair services. Don't suffer through any more cold showers! Contact us today for a free consultation.