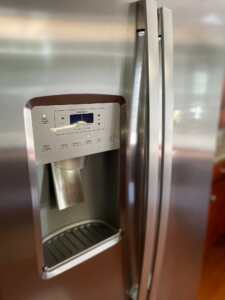 Full Stack Plumbing is a Carrboro Plumbing Company that helps local homeowners and business owners with plumbing emergencies and plumbing upgrades. We are ready to help hook up new appliances in your kitchen and install water lines and drain lines to get them working properly. Contact a Carrboro plumber when you need the plumbing on an appliance repaired or if you are ready for us to hook up a new purchase.
Appliance Installation Projects We Help Carrboro Homeowners With
Some of the new refrigerators on the market can tell you when you need more milk. The most modern advancements can make an appliance a real time-saver for your Carrboro household, but those devices must be properly installed or else they may cause more frustration than joy.
Dishwashers need to have proper hot water lines running to them. They must have suitable drain lines. Refrigerators must have access to water so they can make the ice you need for your drinks and supply a stream of cold, filtered water.
Installing these cutting-edge appliances yourself or paying an inexperienced plumber to make those connections for you can leave you with a plumbing emergency in the months or years ahead. You should want to get these installations right the first time, and Full Stack Plumbing wants to partner with you on a successful upgrade project.
These are just a few of the appliance installation projects we can help you with:
Refrigerator Installation
Dishwasher Installation
Drain Installation
Disposal Installation
Washing Machine Installation
Water Heater Installation
We can also help you pick out an appliance to make sure you don't order something that won't fit in your kitchen or laundry room. We want to make sure you have the right hook-ups to support your kitchen upgrade.
If a brand-new appliance isn't in your budget, our Carrboro plumbers are also ready to track down your issue and repair your fridge or dishwasher. A new part or a replaced line could keep your appliance running smoothly for years to come.
Carrboro Appliance Installation Projects
Your installations need to be done right so your appliance can serve your family for years to come. You also want to make sure all of those features you've spent extra money on are functioning the right way. Contact the Carrboro plumbers at Full Stack Plumbing when you have an appliance installation project in mind. We are good listeners, and we want to get your kitchen looking great and your appliance fully serving your needs.
Our staff is fully licensed and certified. Our company is fully insured. We treat your kitchen like our own home and make sure we don't leave messes behind.
Appliance Repair and Installation Pricing You Can Afford
Unfortunately, things like refrigerators and washing machines can stop working at the most inconvenient times. Carrboro's Full Stack Plumbing is ready to respond to a burst water heater or disposal that won't turn on. If it's a simple part that needs to be replaced, then we'll install a new part as soon as possible.
We don't recommend the expense of buying a whole new unit unless that's what's necessary and that's what you desire. If a new part will get your appliance running again, then that's what we'll do.
We also practice transparent pricing. You'll know the cost of your service and you'll know what you are paying for. We work to keep our prices affordable for all households and businesses in Carrboro.
Contact a Carrboro Plumber for Your Appliance Installation Needs
The experts at Full Stack Plumbing are only a phone call away when a plumbing emergency strikes. We are also happy to install any new appliances, lines, and drains in your home. We want you to be happy with your kitchen upgrade and we don't want you to have to worry about leaks or malfunctions due to improper hookups.
Our team of licensed and fully insured plumbers is ready to improve the functionality and look of your household.  Contact us for all of your plumbing needs at your Carrboro home or business.