Siler City Drain Cleaning
Cold and hot water flowing out of your faucets and showers is usually a welcome sight at the start of your day. But it's also critically important that the drains that take that water away are doing their jobs.
A clogged drain in the bathroom or kitchen can bring a halt to household chores and that morning shower. When you see water coming up instead of going down, it's time to call a skilled Siler City Plumber at Full Stack Plumbing.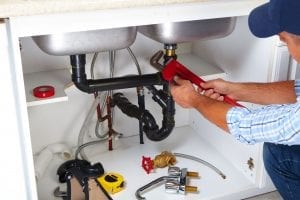 Call Full Stack Plumbing in Siler City for Any Drain Cleaning Project
The team of experts at Full Stack Plumbing stands ready to act when the drains in your house stop working. A clogged or slow drain can make chores, taking a shower, or brushing your teeth frustrating and messy tasks.
Our fully licensed and certified Siler City plumbing crew will figure out where your clog is and eradicate it. We also make sure the problem doesn't keep happening. Contact us today to set up an appointment anywhere in Siler City and across Chatham County. We are happy to come to your home and go over your best options. We are here to answer all of your questions!
Tracking Down Siler City Clogged Drain Issues
A backed-up sink can seem like a simple problem to fix. But running a snake down your drain to "snake" out a clog may or may not work. You may not be able to reach the problem, or you could have an issue that's far more serious than just a food clog or a tangle of hair.
The plumbing experts at Siler City's Full Stack Plumbing check all of the possibilities. We don't want to clear a simple drain clog, only to have to come to your rescue in a week when the clog forms all over again.
Our Siler City Plumbers poke around to make sure the true issue is corrected. These are just a few of the problems we'll be checking for:
Hair clogs.
Food particle clogs and clogs caused by the sticky liquids we pour down our sinks.
Tree roots.
A problem with the sewer lines going into your home.
A broken pipe.
The Siler City plumbing experts at Full Stack Plumbing will be checking these and other issues. We can take pipes apart to clear a drain and put them back in place without leaks. We can also send long drain-cleaning "snakes" to reach clogs that may be farther than you can reach.
Certified Siler City Plumbers
Our local staff of Siler City Plumbers is fully licensed and certified. We don't do unnecessary projects. We inspect your drain problem to see if a simple solution will do. We also know that no job is done until the cleanup is completed.
Full Stack Plumbing offers affordable prices. We also practice transparent pricing. This means you'll know what you're paying for and what services you'll get for your money.
Should I Try to Clear My Drain Myself?
Some people choose to try store-bought chemicals when they have a clogged drain. They send them down the drain and may see a slow improvement in the drainage. Unfortunately, these chemicals rarely fix a drain issue in the long run. The problems usually return.
These chemicals can also do harm to your sink, bathroom, and workroom pipes. You may erode your pipes or the seals between them.
Renting a drain cleaning machine from Home Depot or Lowe's can be a waste of money if you don't have plumbing experience. These tools usually come with just one size cable and a large cable may not fit down your pipes. You could end up damaging your pipes if you don't know what you're doing.
Contact a Siler City Plumber After a Problem with a Clogged Drain
You may suddenly see a backed-up drain in your bathroom, kitchen, laundry room, or workroom.  Don't wait to take action and let that clog start to affect the other sinks and drains in your house. The experts at Full Stack Plumbing are only a phone call away.
Our team of licensed, trained, and fully insured plumbers are ready to clear your drains and get you back to your normal routine as soon as possible.  Contact us for all of your plumbing needs at your Siler City home or business.