Siler City Water Heater Installation
Hot water brings warmth and comfort to our lives in more ways than one. When you don't have it, you immediately notice. When you lose your hot water in Siler City, it's time to call Full Stack Plumbing.
Your hot water heater may need a repair, or your unit may be well past its usefulness. Siler City's Full Stack Plumbers are happy to confirm your problem. If a new water heater is needed, we'll help you pick out a replacement unit that will meet your family's needs. We quickly install your new water heater, so your life can go back to normal.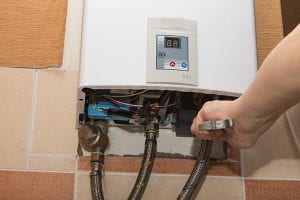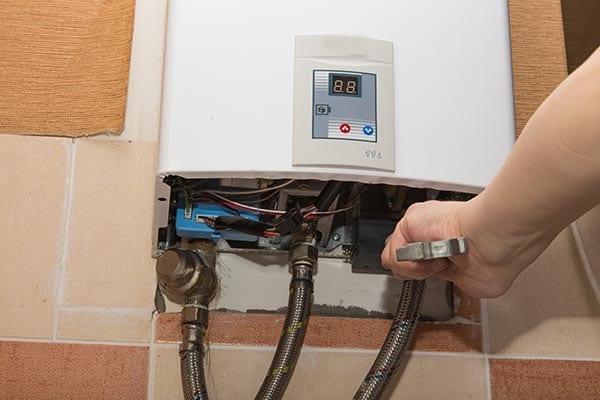 Call Full Stack Plumbing in Siler City for Any Water Heater Installation Project
The team of experts at Full Stack Plumbing stands ready to act when your hot water suddenly runs cold. We install traditional storage-tank water heaters as well as installing hi-tech tankless water heaters. We're also experts at installing and servicing Rinnai Tankless Water Heaters.
While there is no one-size-fits-all solution for everyone, our fully licensed and certified Siler City plumbing crew will work with you to determine the best option for your situation. Contact us today to set up an appointment anywhere in Siler City and across Chatham County. We are happy to come to your home and go over your best options. We are here to answer all of your questions!
Siler City Electric Water Heater Installation
Your dying water heater may be the standard storage-tank variety and up until now, it may have been meeting all of your hot water needs. Electric water heaters are safe and usually a cheaper option and you may choose to stick with what's worked for you. We can help you with selecting a brand new electric water heater.
You could desire an upgrade in your hot water capacity and we can help you select and install a bigger hot water heater to meet your needs. We also make sure that you have the space for a bigger unit.
The professional Siler City water heater installation team at Full Stack Plumbing is at your service from the purchase of your new model, all the way up to the moment you turn on your faucet to enjoy hot water again. Contact us and let us partner with you on your next water heater installation project.
Siler City Gas Water Heater Installation
If you have gas lines running to your home, a gas water heater may prove to be a reliable and affordable option for you. With gas water heaters, you rely on burners that can heat up water quicker than electric heating elements.
The experienced team at Full Stack Plumbing is ready to help you find the right brand and size gas water heater that works for your family's requirements.
We also check your gas lines to make sure you have the access you'll need to power your new model. We're always happy to talk over the options on gas water heater installation for Siler City residents.
Siler City Tankless Water Heater Installation
Many families are choosing to install the latest in hot water technology in their homes.
Tankless water heaters have a higher initial cost, but they are far more energy efficient. You'll see the savings on your power bill each month. The best part of all is, tankless water heaters give you hot water on demand. As much as you need for however long your family members stay in the shower.
Our trained experts at Full Stack Plumbing can install any brand of tankless water heater in your Siler City home, including Rinnai tankless water heaters. Our main goal is to find a tankless water heater solution that works best for you and your family. Contact Full Stack Plumbing to get your tankless water heater questions answered.
Skilled Siler City Water Heater Installation from the Staff at Full Stack Plumbing
Our expert plumbers know the Chatham County area well and are ready to provide for all of your water heater repair and installation needs.
Our staff is fully licensed and certified. We are also good listeners. We want to partner with you to determine the best solution to your hot water needs.
We check out your current water heater to see if a simple repair or part replacement can fix the issue. If a new water heater is needed, we help you select the best model for your home. We also know that no job is down until the cleanup is completed.
Full Stack Plumbing offers affordable prices. We also practice transparent pricing. This means you'll know what you're paying for and what services you'll get for your money.
Contact a Siler City Water Heater Installation Specialist
The experts at Siler City's Full Stack Plumbing should be your first choice for water heater installation and repair.
Our team of licensed, trained, and fully insured plumbers has many years of experience installing electric, gas, and tankless water heaters. Full Stack Plumbing is also your source for water heater maintenance and water heater repair services, as well as other plumbing installation and plumbing repair services. Don't suffer through any more cold showers! Contact us today and tell us about your water heater issue.